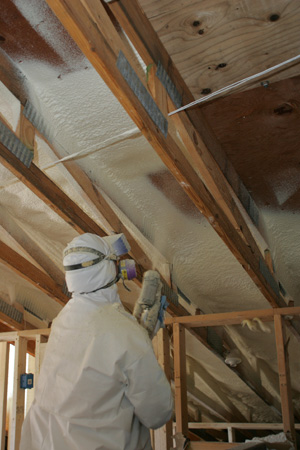 You may find this hard to believe, but spraying in foam insulation was introduced to homeowners in the 1930s. Technologies have come a long way since then, but the premise is still the same. Today's 1.7 – 2.8 pound density urethane foam has an R-value of around 6.7 per inch, and would only require 3 ¼ inches (R-21) in the sidewalls of a home, and 4 ½ inches (R-32) in the ceilings. The closed cells offer a built-in air barrier, and they repel water. This allows closed cell spray foam to provide an insulation and waterproofing barrier in one application in your Syracuse, NY home. With a Class 1 fire rating, closed cell spray foam is a popular choice for commercial roofing and insulation systems.
How does closed cell spray foam from Standard Insulating, Co. insulate your home? Tiny, closed cells within the polyurethane hold gases that are less thermally conductive than air. They're packed tightly, which results in higher density and R-value. Closed cell spray foam helps you take control of the air in your Syracuse, NY home. It helps to keep our pollen, dust and other pollutants; all while you're reducing your heating and cooling costs. It can help your home from developing a mold problem, too, as it provides an air barrier. Homes without an air barrier have air leakage that transports moisture through walls. That moist air gets into the walls and attics and condenses, promoting the growth of mold and mildew.
Closed cell spray foam from Standard Insulating is the ideal insulation for your Syracuse, NY home.
Closed cell spray foam, also referred to two pound, or high-density foam, is the ultimate in spray foam for your Syracuse, NY home. It offers a number of benefits, including:

Highest R-value available
Eliminates drafts
Saves energy
Defends against conditioning causing condensation and mold
Provides an added level of strength to your build – two to three times!
Protects build from interior and exterior water; doesn't absorb
For closed cell spray foam and more for your Syracuse, NY home, count on Standard Insulating.
We install the following types of home insulation, depending on the specific home style and situation of your Syracuse, NY home:

When you need new insulation for your Syracuse, NY home, rely on Standard Insulating Co. to help. We'll show you how proper insulation, including closed cell insulation, can help improve your home's efficiency. Schedule an appointment with Standard Insulating today by calling us toll-free at 1-(800) 738-1424, and we'll be happy to help.