The whole house assessment starts with a health and safety check of the home. We look for gas leaks, problems with the heating system or hotwater heater. We then install the blower door fan in an outside door to depressurize the home. This will help us identify how leaky the house is and where specific leaks are. While the house is depressurized, we use the infrared camera (when the outside temperatures allow for an accurate reading) to provide greater detail in diagnosing your home. The whole process takes about two hours.
Recommendations from Whole House Assessments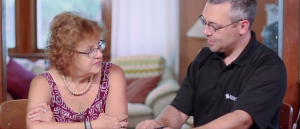 A sales representative will need to cost out prescriptive measures to improve the efficiency, comfort and safety of the test. These figures and work scope will, along with the additional findings of the audit, will provide you with final work scope options and reported analysis of potential savings. These findings are a result of information entered into an energy modeling software program.
Installation
You will make the decisions on what measures you would like to move forward with and a contract will be signed. Program information and paperwork will need to be processed and your project accepted into the appropriate program. Once approval has been provided by the Home  Performance  program the installation will begin.
Tested Results
After the work has been completed, we will return to perform a post and safety test. We will look at the health related issues within the home and compare to the results before the installation was done. The blower door is used again and the results compared to the pretest. As we are performing the test, a thorough quality check is being done. This will include thermal imaging and a variety of other checks to ensure all work is done to the highest quality standards.
Assistance Programs and Incentives
After the post test results are gathered, they will be applied to the various assistance programs offered. These programs will allow you to receive up to 50% subsidies or even get energy upgrades for FREE. Low interest financing is available to eligible homeowners. Your sales representative and the staff will assist you with required paperwork and with understanding the program. You may be eligible to participate in numerous programs.