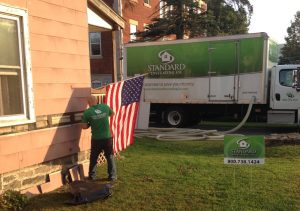 When you live in Central New York, you know that winters can be frigid and summers can get hot and humid. If your home isn't properly insulated, you can lose energy – and money – every time you run your home comfort system. Putting a 'coat' of insulation in the walls of your existing home is an important step to making sure your home is energy efficient.
Insulating Your CNY Home
Your walls make up the majority of the heated surfaces in your home. Adding cellulose insulation can help maximize the energy efficiency of your Central NY home. Here are a few of the additional benefits:
Wall insulation will plug drafts generated by empty walls.
Cellulose in walls provides exceptional sound reduction
Filling the wall cavity can help deter rodents traveling through your walls.
We install the following types of home insulation, depending on your specific home style and situation:
Are your heating bills high? And are you still uncomfortable?
Places We Regularly Serve: